CREAMY CHICKEN AND WILD RICE SOUP (Slow Cooker)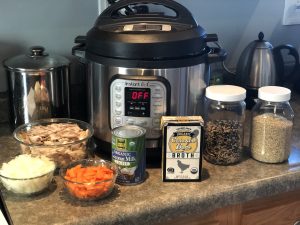 4 cups chicken stock
2 cups water
1 tsp salt
1/2 tsp pepper
1/2 tsp turmeric
1 cup onions, chopped
4 cloves garlic, minced
2-14 oz cans coconut milk
4 oz package wild rice (about 2/3 cup)
1/2 c uncooked brown rice
2 boneless skinless chicken breasts, cubed
1 cup diced carrots (optional)
1/4 cup cornstarch
1/4 cup cold water
salt to taste
In the slow cooker, mix together everything except the cornstarch and cold water. Be sure to shake the coconut milk cans well before opening, and whisk together well. Cook on low for 4 hours. Combine cornstarch and cold water, add to the soup. Keep the lid off and cook and additional 10 minutes on high, stirring occasionally. Add salt if needed.
recipe from www.fromscratchtoplate.com
Notes from Kristi:
This soup is a great alternative to Chicken Noodle Soup. With most recipes, I take the base recipe then play around with it. If you like turmeric or need that added boost, increase the turmeric to 1 tsp.
I like to use homemade chicken broth when possible. When I run out, I use chicken bone broth as a way to get in some added protein to the soup.
I have made this recipe with regular and light coconut milk. The texture can change a little but both ways seem to be a hit with my family.
If you are looking for a way to get in added greens, I add spinach to my soup bowl before I had the soup. The heat of the soup is enough to break down the spinach.
This is a great soup to make for your meal prepping day. It is short on the prep, you can put it in the Instant Pot or slow cooker and make your second meal of the week.