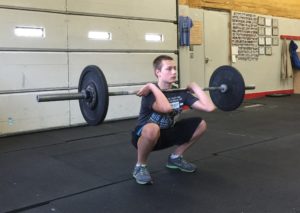 We are very proud of Corwin. He has come consistently since November of 2014. We have seen huge amounts of progress in his fitness, strength and technique. It is very inspiring to see a young man be as committed as he is to fitness and health.
Coach Michael Halley and Corwin have build a good relationship over the months that Corwin has been attending classes at Boom Fitness. Michael had a few words to share about Corwin.
"Corwin has shown a serious commitment to improving his overall fitness since joining Boom, especially in recent months. He shows up early and stays late to work on gymnastics and core-strengthening, which is helping him rapidly improve in all areas. By putting in the extra time and effort he's building a foundation of strength, mobility, and body-awareness that will carry forward into everything he chooses to do in life. More importantly he's showing himself (and the rest of us) how persistence in improving one's weaknesses is the key to success. Corwin and I have known each other his whole life and I couldn't be prouder of capable young man he's become."
It is never too early or too late to take your health goals to the next level.